Post by utahgolfer on May 21, 2020 1:05:18 GMT -5
Dr. Mann has emphasized that swing power should be generated early in the downswing, since we know left arm speed begins to slow down before impact, and club head speed reaches its peak speed at impact. Clearly, there is a window of opportunity to create power in the swing, and it needs to happen early and quickly in the downswing. The standard kinematic sequence graph shows maximum left arm speed occurs at about p5.5.
Dr. Mann has also discussed how Jon Rahm moves his left arm at a faster speed than his pelvis and thorax, sooner than normal in the downswing (compared to other PGA players).
link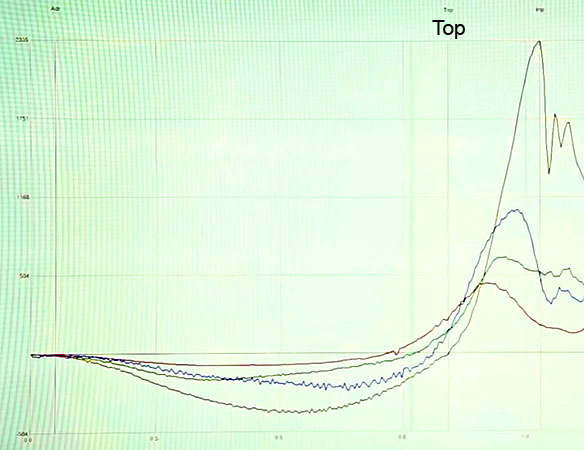 Dr. Mann has proposed that Jon Rahm may generate most of his left hand speed at p5.5 due to right and left shoulder girdle muscle activation, and not because of the speed of his upper torso rotation.
In this video from AMG, Mike Granato, indicates that the sooner a golfer reaches maximum left hand speed, the higher will be his club head speed at impact. This reinforces the idea that early left arm speed is essential to maximize club head speed.
This video shows the amateur model reaching peak left arm speed later, just after p6, while the pro model reaches peak left arm speed sooner, at p5.5.
Here is a video of Paul Wilson, a teaching pro in the Las Vegas area, known for his swing power.
In this video, Paul suggests that his swing power is a result of very relaxed arms and a fast turning pelvis and thorax. Beginning at the 5:20 mark, he shows an "easy" swing generating 96 mph club head speed, and then his "hardest" swing (but still very smooth) generating a club head speed of 114 mph.
But, pause, start and stop, the video during Paul's downswing and you will notice a relatively straight hand arc path (similar to Jon Rahm) from p4 to p5.5. Paul's pelvis and thorax are moving relatively fast during this time, but he appears to move his left arm faster than what his pelvis and thorax rotation would generate. His very fast vertical left arm drop looks similar to Jon Rahm's.
Paul states that the arms just need to be as relaxed as possible. And that power is a function of his fast body rotation. In other videos, Paul sometimes seems exasperated that golfers can't seem to get it. He repeatedly says over and over to keep the arms relaxed and turn the body fast.
I don't know if Paul has any right and left scapula girdle muscle activation, especially when his arm swing looks so relaxed and effortless.
My assumption is that Paul's high club head speed is related to his relatively straight hand arc path from p4 to p5.5, which promotes an efficient and quick release of PA#4.
Any input is appreciated.
UG