Post by dubiousgolfer on May 25, 2020 20:57:16 GMT -5
Just thought I'd mention this.
Golf Science Video: coach
@mfinneygolf
created a 3.5 hr discussion between some of the world's top golf scientists
You can access it with a minimum $25 donation to us at:
golfscience.org/donate-to-golf-science/…
after completing, Mike will email a link to the video and password. Details below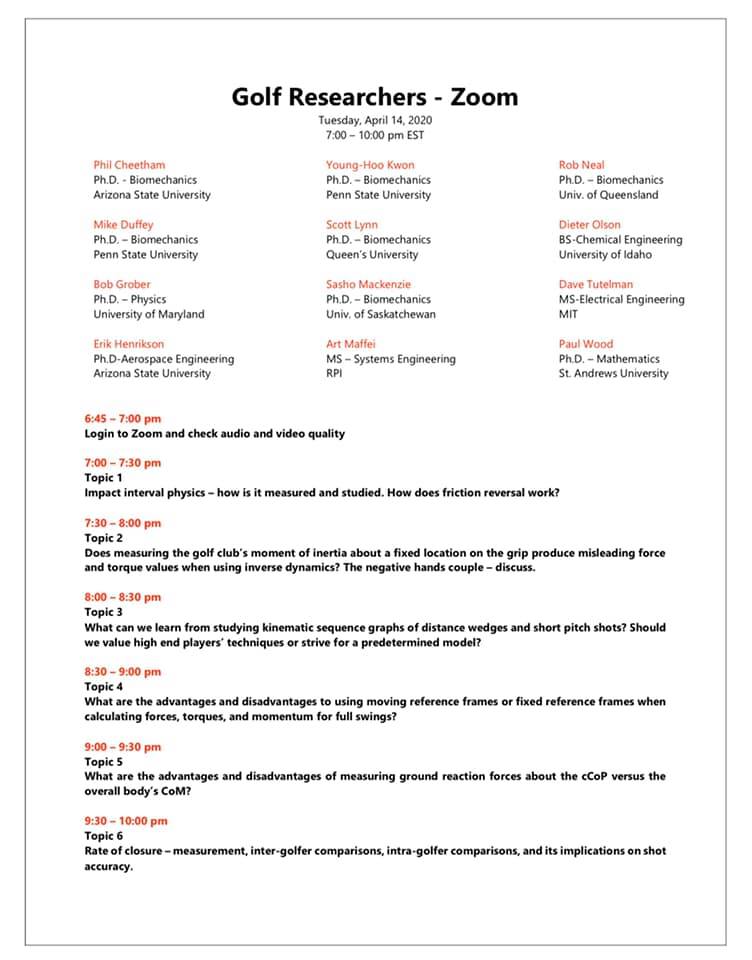 But I found a link that will be summarising some of the topics that were discussed.
leejhlee.wordpress.com/2020/05/06/measuring-kinetics-at-the-handle-of-the-golf-club/
TOPIC 1 - Friction Reversal - not interesting (to me anyhow)
TOPIC 2. Measuring kinetics at the handle of the golf club - summarise by Dr Kwon below
There is a fundamental disagreement among some coaches as to the functions of the hands couple (Dr.Sasho's explanation of what couple is vimeo.com/158419250) and its role during the transition and during the impact phase. The problem can be cleared if there is a way to accurately separate and measure the different forces acting on the handle. Of course, there is no such device invented at this time
"A "grip force system," as suggested by Dr. Kwon, that can give accurate data on the kinetics on the handle of the club, if invented, could revolutionize the dynamics of golf biomechanics."
Hmmm - didn't Dr Mann mention this several years ago?
TOPIC 3. - nothing posted yet- might be interesting for short game.
TOPIC 4 - Only interesting for maths/physics academics who are acquainted with tensors/vector transformations, etc and I suspect their importance for inverse/forward dynamic modelling
TOPIC 5 - not interesting considering that GRFs are reactionary forces and not 'cause' forces.
TOPIC 6 - nothing posted , might be interesting although I suspect they will just agree with Phil Cheetham and Ping research graphs showing there is no correlation between the ROC and dispersion across handicaps (but we don't know how many of those golfers were DH'ers and if they were more accurate than non-DH'ers).
DG